YOU DO!!! My readers and my customers and my inspiration bloggers! ALL. OF. YOU.
I've "met" so many wonderful ladies since I started this crazy crafting adventure--and it's really only been a couple months. I appreciate every comment, every tip & trick, every pat on the back, every snort and every giggle.
I was going to post up rules and a list, but instead I want all of you who read my blog, every single one of you, to take this badge and pass it on to 3 people who ROCK YOUR SOCKS--for any reason.
Pass it on to anyone who inspires you, makes you laugh or impresses the hell oughta you.
I want to post a special shout out to:
Jennifer at Cuppy Cake
--my number one enabler
Dawn at My Favorite Things
--her style leaves me squiffy
&
Danyelle at Hangnailz & Papercutz
--she alwayz makez me smile!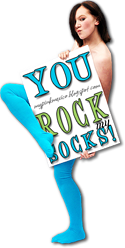 **you MAY hotlink it from my storage or save it to upload for yourself**